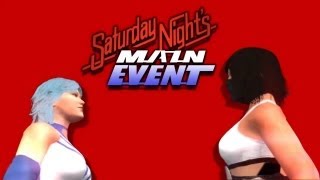 It's the night before VixenMania, and the vixens finish what they started on Nitro, before they go to war! In a bizzaro tag match, Tag Champion Haruka & Intergalactic Champ Minako take on their challengers Usagi & Yuna. Fantasy vs Reality 6-vixen tag match with the Queen of the Mountain qualifiers duke it out as Rinoa, Reiko, & Rikku go up against Ashlee, Hilary, & LuFisto. Also, Aerith calls out Astarte so she can end the suffering Astarte's going through, and the contract signing between Ami & Abdala, for the VWF Championship, will take place in the ring!
Astarte says yes to Aerith's VixenMania challenge.
Contract signing between Ami & Abdala for the VWF Championship @ Vixenmania
Ad blocker interference detected!
Wikia is a free-to-use site that makes money from advertising. We have a modified experience for viewers using ad blockers

Wikia is not accessible if you've made further modifications. Remove the custom ad blocker rule(s) and the page will load as expected.